The world's top mountain bike competitors are lining up to race in the Tara Llanes Classic, October 2 – 3, 2010. Among the pros confirmed for the event are Duncan Riffle, Cody Warren, Sabrina Jonnier, Kathy Pruitt, and Kirt Voreis. Also returning this year are Adam Craig, Evan Turpen, and Mark Weir, who placed first, second, and third respectively in the pro men's category at the 2009 Tara Llanes Classic.
These and other pros will compete for a share in the $2500 Giant-Shimano Pro Purse at the fourth annual Tara Llanes Classic, to be held for the second straight year at Northstar-at-Tahoeâ"¢ Resort — the beautiful, world-class skiing and mountain bike racing venue near Truckee, CA.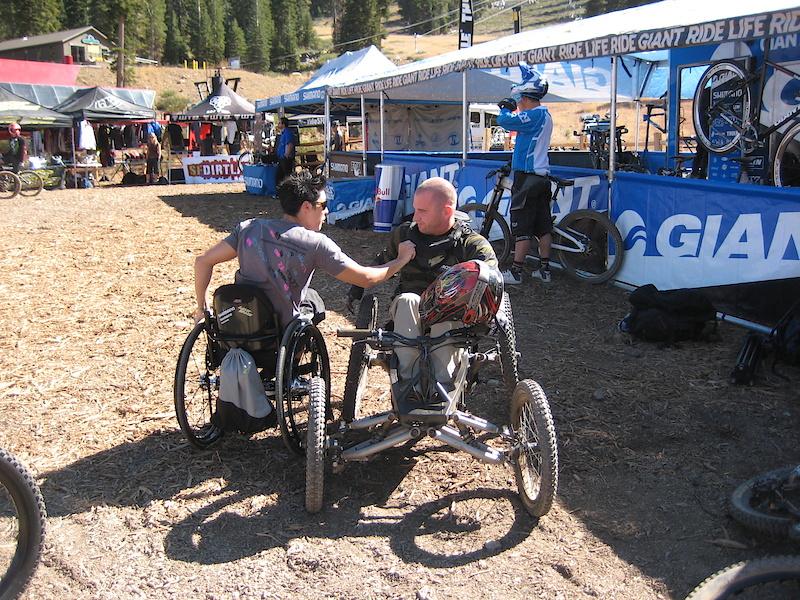 Brooke Duqesnel and I getting ready to ride.
Competitors in Cat. 1, Cat. 2, and Cat. 3 categories who win their respective classes will each get a pair of Fox Launch Pro Kneepads. All second place riders in those categories will win a product from Dakine, and all third place riders will receive a pair of Smith Fuel V.2 goggles.
The Mega DH course that provided the challenge and excitement for 115 riders in 2009 will be back for 2010. This is the same course that WTB top pro Mark Weir calls, "the best course I've raced on all year!"
Other events planned for the race weekend insure a great time for everyone in the family. A Shimano Kids Race will take place on Saturday, as will a downhill clinic by Giant Factory Off-Road team DH pro Duncan Riffle. And Saturday night will feature a premiere screening of the new MTB film, "LifeCycles." On Sunday during competition, hundreds of great prizes will be raffled off for spectators and racers alike.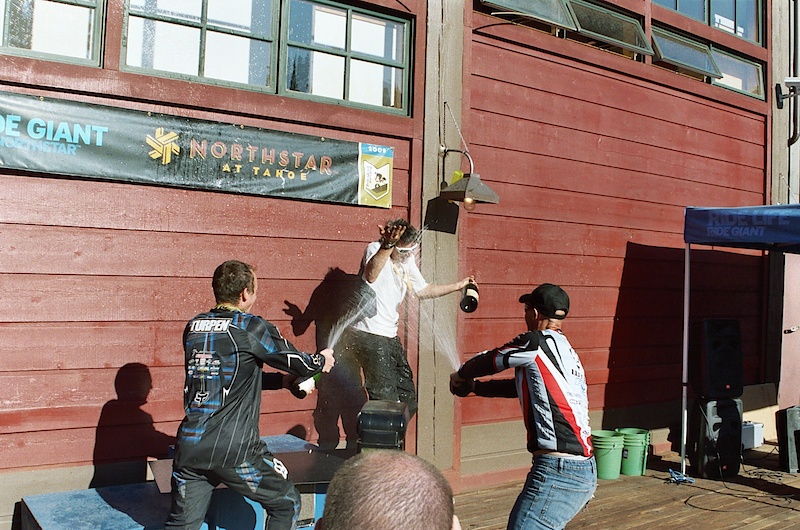 Pro Men Podium – Adam Craig 1st, Evan Turpen 2nd, and Mark Weir 3rd
The Tara Llanes Classic benefits the Reeve-Irvine Research Center at the University of California-Irvine to help find a cure for spinal cord injuries, and also the Tara Llanes Road to Recovery fund which is designed to provide charitable medical assistance to professional mountain bike athletes who participate in Downhill, 4X, Dual Slalom, and Cross-Country events.
A list of sponsors is at http://www.tarallanesclassic.org/sponsors.htm as well as information on how to join the growing number of sponsors and vendors. Bookmark the following websites for information on how to register and take part in the Tara Llanes Classic.
Podium – Top 3 finishers in each category will get a TL Classic custom medal and either a Fox Clothing, Dakine, or Smith product.
http://www.tarallanesclassic.org/
http://www.northstarattahoe.com/
http://www.reeve.uci.edu/Home/
For more information please contact:
Brian Bolin – Race Information  8831-295-1056 brian@racefortara.com
Stuffing Swag Bags