article fully, 100% snagged from Pinkbike.com
"What I'm doing now is developing methods to characterize and detect engineered nanoparticles specifically, such as metals in natural aquatic systems." Those aren't exactly words you would expect to hear from one of the East Coast's premier downhill talents, but most pro downhillers aren't trying to save the world by applying nanotechnology to environmental remediation efforts.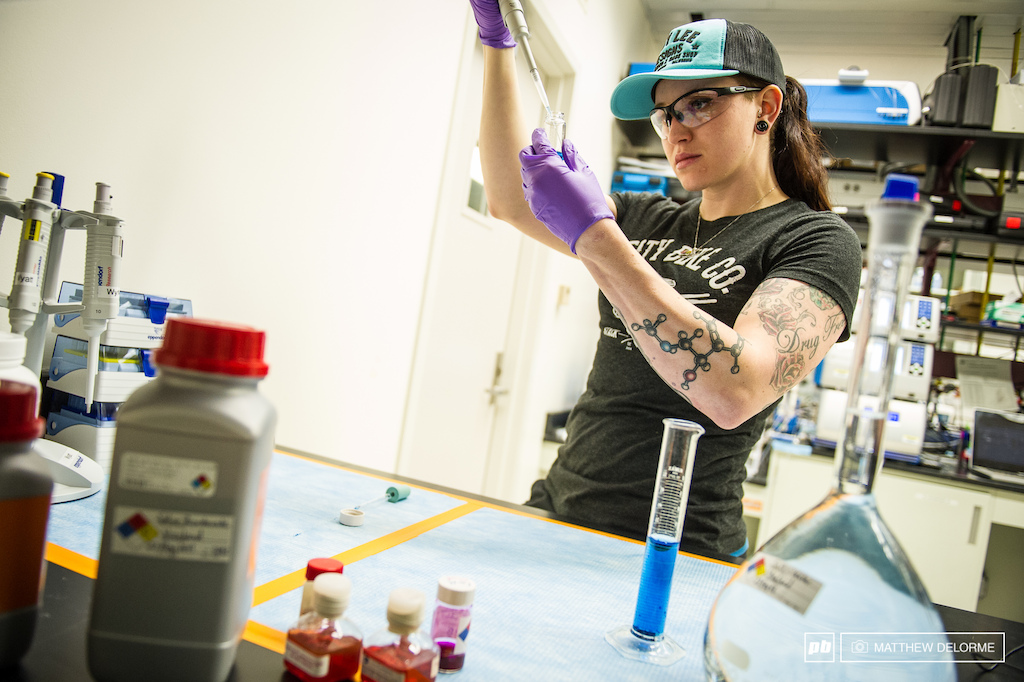 Frankly, Anne Galyean isn't most professional downhill mountain bikers. What she is is exceedingly ambitious and intelligent, and possesses the drive to accomplish things in both mountain biking and science that are hard enough alone without the burden of the other. Oh, and of course there's the talent part, and she has gobs of that stuff.
I recently had the pleasure of hanging out with the 27-year-old Idaho transplant in her current hometown of Frederick, Maryland, along with her partner in crime, World Cup and EWS photog Matthew DeLorme. When you step into the home of a professional downhill mountain biker and a professional mountain bike photographer you expect to find a few things, namely bikes and photos. In that sense, Anne and Matt's home is certainly no exception.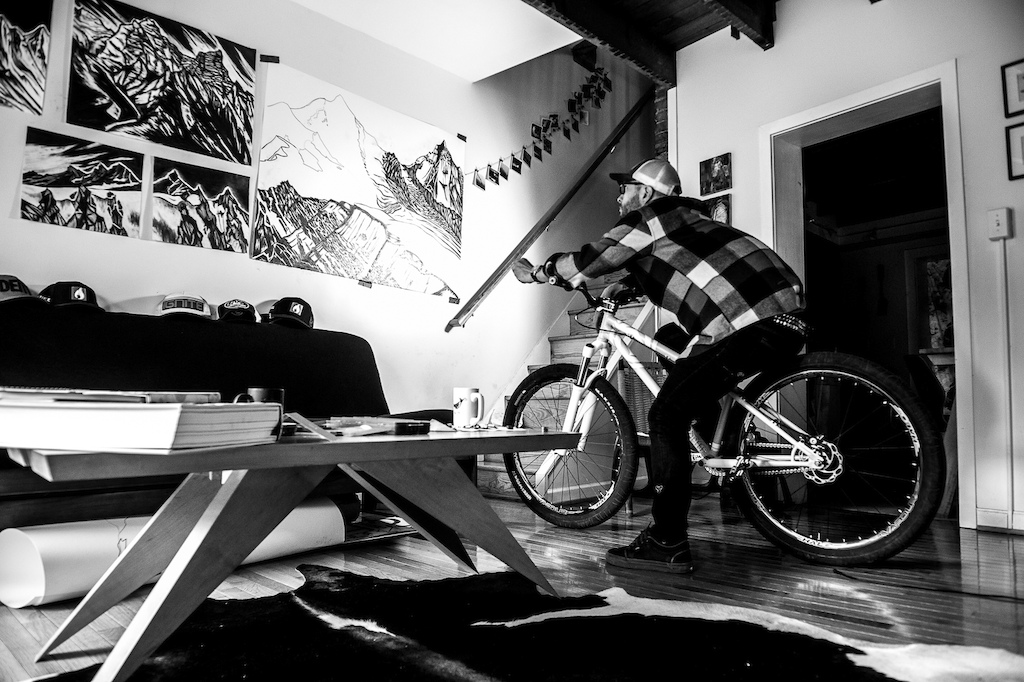 Photos line the walls alongside other, equally impressive forms of Matt's artwork. Bikes hang out in various parts of the house. But you are probably not expecting to find mason jars of embalmed bats or collections freeze dried insects. There's no television either. They have their computers and tons of work to keep them busy. Neither of them drink alcohol, so there are no post-ride brews waiting back at the house. There are, however, several gallons of protein powder, green smoothies, aeropressed coffee and delicious (and nutritious) treats waiting back at the abode.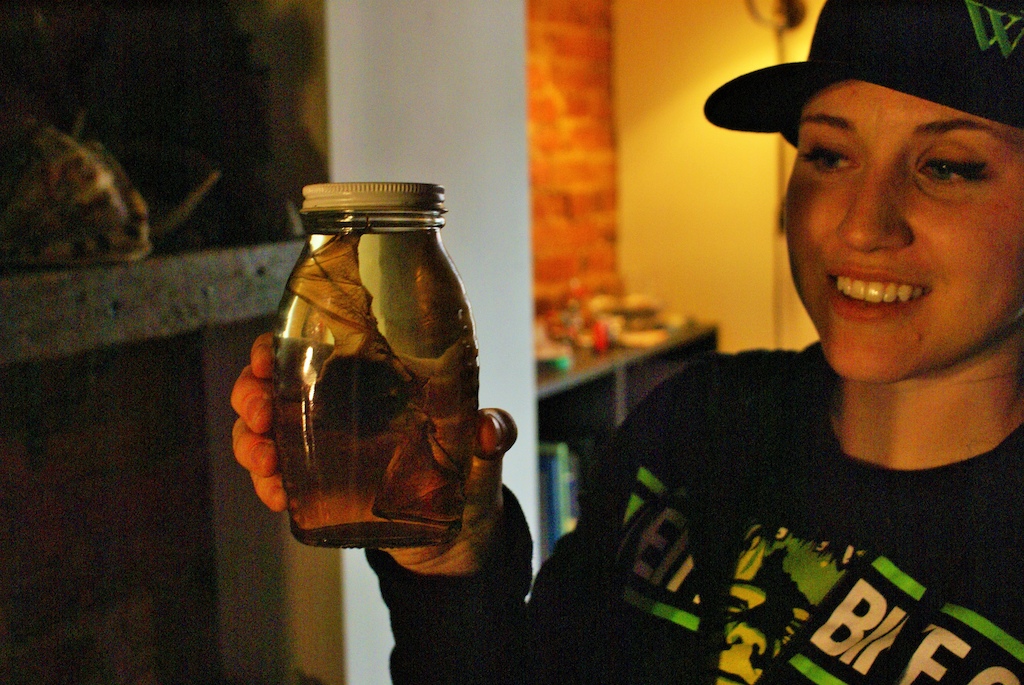 Here, Matt is the cook and Anne is the baker. "Baking is like chemistry; cooking is like art." Anne says. "To me, baking and chemistry are very similar. You measure ingredients to create reactions. Cooking is something I don't have in me. It's mostly just my lack of creativity. I don't get how things fit together."
According to Matt, Idaho is to blame. "She's got a weird palate. It's not her fault, she grew up in Idaho. But the thing is, she'll try anything once and then it's hit or miss. But I sort of do have it figured out now."
"I do make sure to call ahead to make sure my dinner is ready when I get home because I don't abide by that shit," laughs Anne. "I like it hot and ready right when I get home."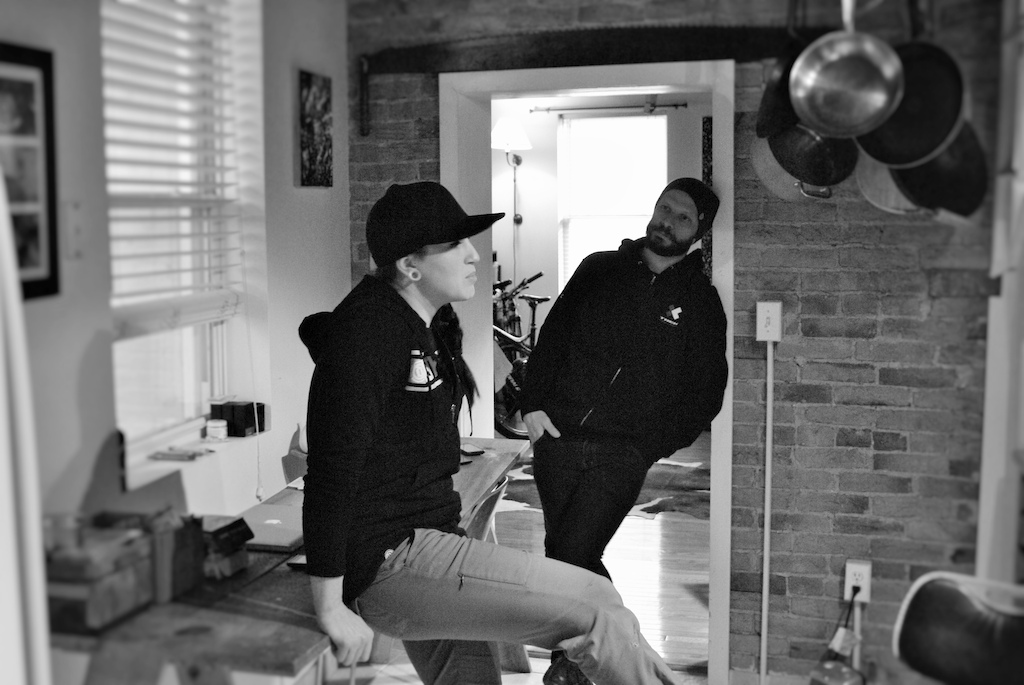 Anne spends many days commuting to the National Institute of Standards and Technology in Gaithersburg. She's currently a PhD candidate at UNC Chapel Hill, NC, in the department of environmental sciences and engineering; her focus is Analytical Aquatic Chemistry. Anne's work is decidedly complicated to say the least. "When I first started I had all of these grand ideas, but I found out that most of the basic science in the field hadn't been done yet. I had to take a few steps back to focus on method development and trying to determine how we even measure these things in the environment in the first place before we figure out their applications." She is essentially developing the methodology behind the detection of some of the smallest particles on Earth, so she can move forward with the research she wanted to pursue when she started off.
Her work with instruments like the "Asymmetric Flow Field Flow Fractionation with light scattering detection," or the river wading and scooping, or the insane amount of work she has put into the past four years of her thesis provide an important context for what she's accomplished on her bike. Anne is a brilliant scientist, but you're not reading about her on Pinkbike because of her extensive background in nanochemistry or her upcoming defense this fall. Despite the overwhelming workload she's presented with on a daily basis, she has somehow managed to become one of the best downhill racers in the country. Last year, she won USAC's Pro GRT series, competing in 4 of the 7 races and winning 3 of them (she finished 3rd in the other). It was her first time racing the series. Prior to that she spent time in the Gravity East series before an injury took her out of racing for most of 2012.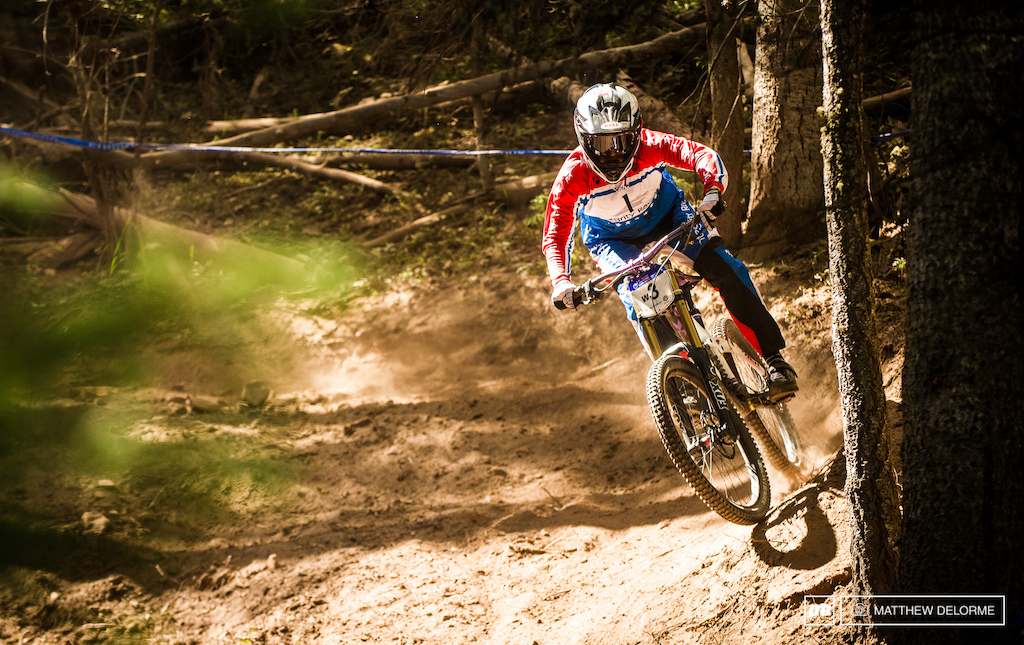 She got into mountain biking during a semester abroad in New Zealand; having joined the local mountain bike club and being inspired by a handful of kiwi shredders, including some one-on-one time with the legendary Gabby Molloy. When she returned to the states, she began amassing the tools she'd need in order to race downhill. She purchased a "super heavy and super old school" RMX bike. "For Christmas I asked for body armor. At this point I hadn't actually ridden downhill yet. This was my senior year of college, so for my graduation present I asked for a season pass to Snowshoe Bike Park. Then I just started going. I didn't really know anyone at that point so I would just drive out and sleep in my car, ride all weekend and then drive home. I went from beginner to intermediate to expert class that season and that was that."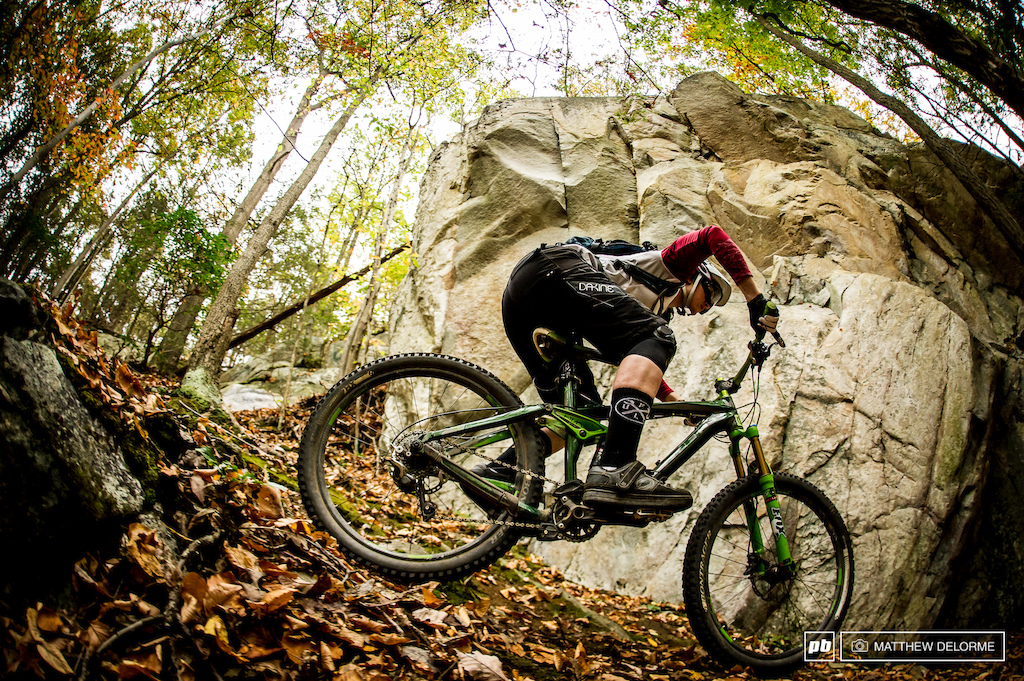 The past several seasons have given Anne plenty of opportunities to reflect fondly on her experiences and adventures on her bike. She has developed several strong relationships and friendships along the way. She counts the brothers Mulally as both close friends and sources of inspiration. "They remind me that racing and riding bikes are equal parts fun and hard work." Hard work ain't the half of it. Anne's research, as one can imagine, leaves her with significantly less time to train per week than many of the women she is beating at the races. As a result, she's forced to take some unique approaches to her training. "I've been doing the Carmichael training plan called the Time Crunched Cyclist, which is supposed to help you get fit when you only have 8 hours per week to do it. I don't often have time on weekends to ride, so for me this works really well. Carmichael's argument is that you can build viable endurance from 3 or 4 hour efforts ultimately with intervals."
Anne is about as time crunched as they get. The success of the 2013 season led to her selection to the U.S. National team and the opportunity to test herself against the best in the world in South Africa. Unfortunately, time just wasn't in her corner. "I made the team but I had just gotten a brand new instrument in the lab, I needed to get a paper out and I just didn't feel like I could be away from school for that long. I literally spent that whole summer with nothing functioning at all, no usable data, instruments broken half the time, so I had all of this free time. As soon as I made the team I had work to do."
Now, you may be curious as to why she just doesn't spend a few years racing and supporting herself as a pro downhiller at this point. She was flat out dominant last season and her trajectory is sky high. But for herself and many other professional female riders, time isn't the only scarce resource they're struggling with.
"Guys have a hard enough time getting sponsorship and funding. For us it's nearly impossible," she remarks. Part of that may be attributed to the small number of women showing up at downhill races compared to the men. "There just aren't a lot of women that ride downhill. I have spent a lot of time in my short career racing myself. I'd be the only pro girl there, so the venue would automatically bump up the Cat 2 girls just so we had a podium. That's not really conducive to getting faster or pushing yourself." That's not to say she doesn't appreciate the women who are out there pushing the sport. She lists several women of whom she's competed against and calls many of them friends including Jill Kintner, Jackie Harmony, Amanda Batty, Becky Gardner, Ali Zimmer, Amanda Cordell, Taylor Allison and others. It's clear though that the current state of affairs in downhill here in the States is a frustrating subject for her and rightfully so. "There just aren't any real opportunities to join a team. No one out there is offering to make a team. There are what, 5 or 6 U.S. riders out there on the World Cup Circuit? U.S. downhill has some work to do…"

There just aren't a lot of women that ride downhill. I have spent a lot of time in my short career racing myself. I'd be the only pro girl there, so the venue would automatically bump up the Cat 2 girls just so we had a podium. That's not really conducive to getting faster or pushing yourself.
According to Matt, it takes more than just an individual's hard work and talent. Sometimes it requires a cultural shift. "People wonder: 'Well, you're good at it, why don't you just go do it?. But the opportunities aren't there and the equipment is expensive as hell, so if you break stuff; and you're going to break stuff, you're screwed. Especially in the States. If you were in Europe and bouncing around doing the iXS Cup or something like that, you could probably get around pretty reasonably. You want to bring riders to a World Cup level but you're looking at a race class where you're racing the same seven or eight people every weekend. How are they going to learn how to really push themselves? The competition is lacking. It doesn't cultivate a sense of 'I need to go faster,' or 'I need to be that much more pinned,' or 'I need to be on that ragged edge just a little bit more.'"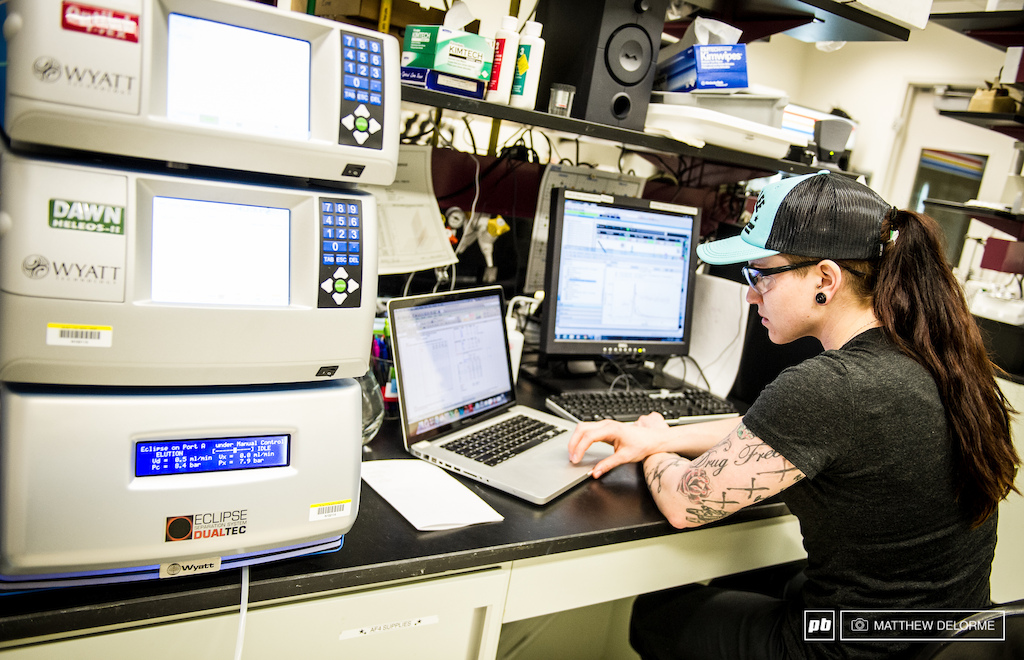 Hence the move to everybody's favorite buzzword: enduro. This year Anne is going to be doing things a little bit differently. With her impending defense this November, Anne's focus remains on her lab work above all else. For her, the switch to enduro provides her with the flexibility to work on her thesis and race when her schedule permits. "Enduro gives me the opportunity to race when I can afford it and when I have time. I'm a pretty competitive person, so I don't think I would do too well racing just one or two downhill races. So this feels like the most logical course for the season. Who knows, maybe I'll love enduro. Maybe I'll hate it. I'm a little nervous actually."
"It's mountain bike racing the way it used to be when it started, ya know?" says Matt. "Before XC guys turned into roadies and downhillers were asked to pretty much risk life and limb now without that much cake. It's about going out and having fun; not killing yourself on a climb and having a blast on the way down. It's trail riding and you're having a race at the same time. Don't get me wrong, downhill is awesome; it's fantastic. But on a day to day basis, which bike do you grab?"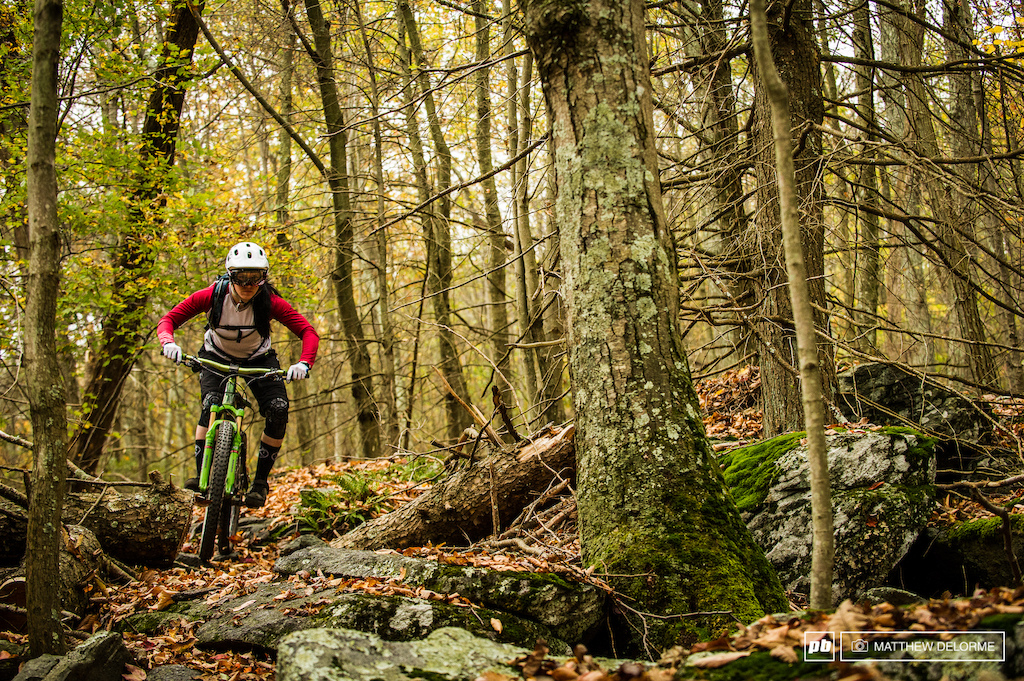 The Triple Crown Enduro Series, Eastern States Cup and even the Enduro World Series stop at Winter Park are on her short "to-do" list of races this season. In the meantime, she remains fully devoted to accomplishing her top priority for 2014; the defense of her PhD candidacy. Between that workload and racing a new discipline, the year looks to be offering up a multitude of challenges to Anne. But that's sort of by design. "In high school the sciences were always the biggest challenges I could find academically. My teacher always emphasized that chemistry was about solving puzzles, not doing tedious math or memorizing. Because of this we learned to apply concepts as opposed to regurgitating whatever it was we would read in a book. It was the most challenging class I took in high school, so I naturally decided to major in it."
She embraces the challenges she's presented with every day in the lab the same way she embraces the challenges she's presented with every day she rides her bike. "I love riding in the same way I love chemistry: it's hard. It's challenging. It's a test of my physical and mental strength. On the other hand, it gives me the freedom of being outdoors, which has always been my church".
Amen to that.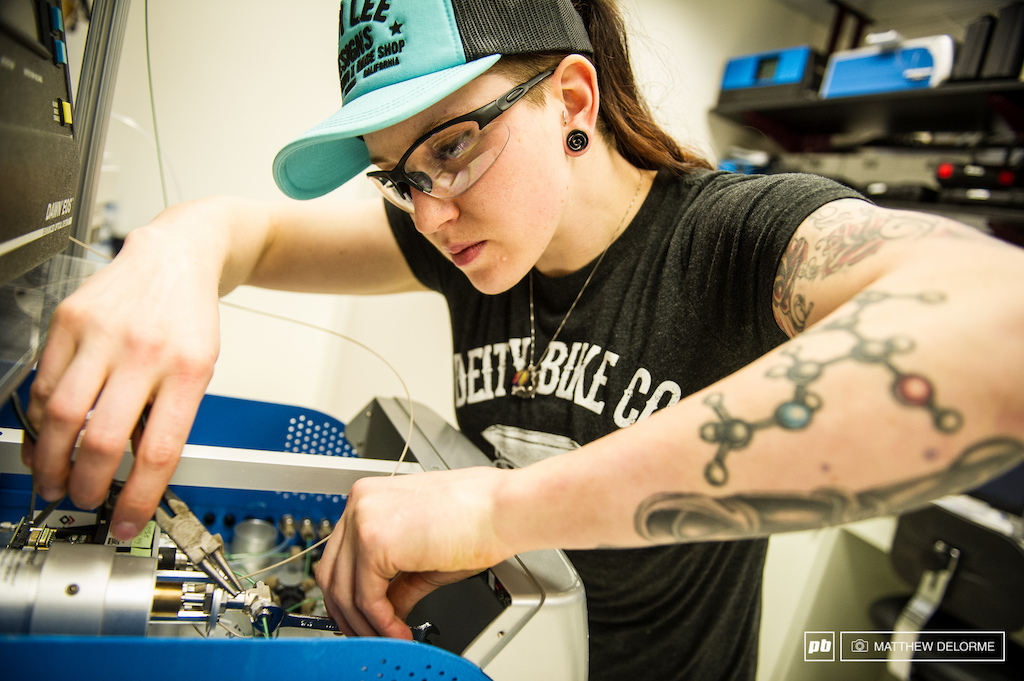 Anne Galyean's sponsors include: Deity, Fuel Clothing, TLD, Allsport Dynamics, e*thirteen, G-Form, Bike Doctor Frederick and Wicked Wash.
Matthew DeLorme is the team photographer for Trek World Racing and his work is featured heavily on Pinkbike.com.