The first race really crept up on me!  I've been having a hard time finding a balance between family/work/my passions.  All I can say is that without a supportive husband none of this would be possible.  Moving from Ontario where we had the luxury of having both of our parents and free babysitting within fifteen minutes, to feeling completely dependent on your partner is a challenge!  He's up for it though, thank goodness.   Thanks also to Obsession Bikes for letting Gee (aka James) have the time off to support me.  Hopefully there is more where that came from!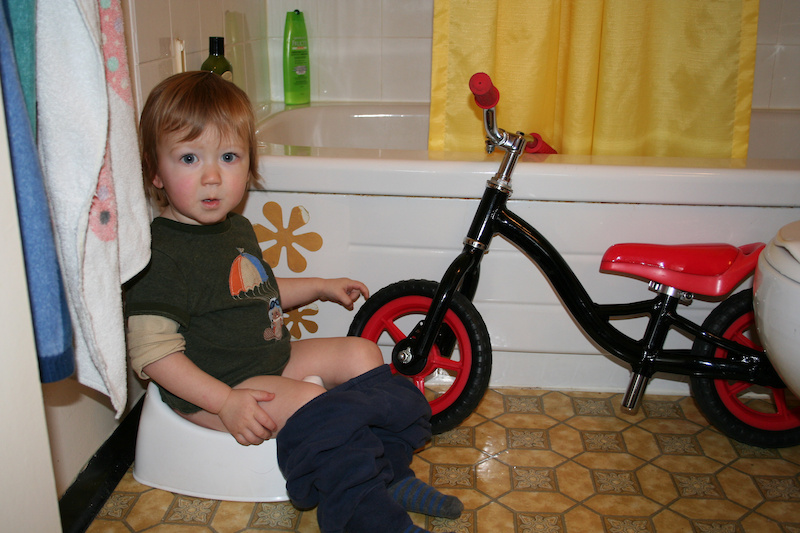 Although he loves to ride and he could probably keep up, at 23 months we can't yet ride together safely! You can tell he is already addicted, because he has to bring his bike to the potty with him.
Anyway, that is my reality.  Although biking is always on my mind it is definitely not the top priority in my daily life.  What was nice about being away to Kamloops was that I was able to make it more of a priority.   Last season in Ontario, the races gave me an opportunity to become reacquainted with my bike.  Unlike the North Shore, there is little opportunity to ride between November and May, so when the season came I was still trying to figure out how to be the best mother possible, and keep the passion alive!  This season I am hoping there will be more riding and more opportunity for progression so that I can keep up with the other ladies!
So – the race!  Race the Ranch BC Cup DH #1 – Kamloops, BC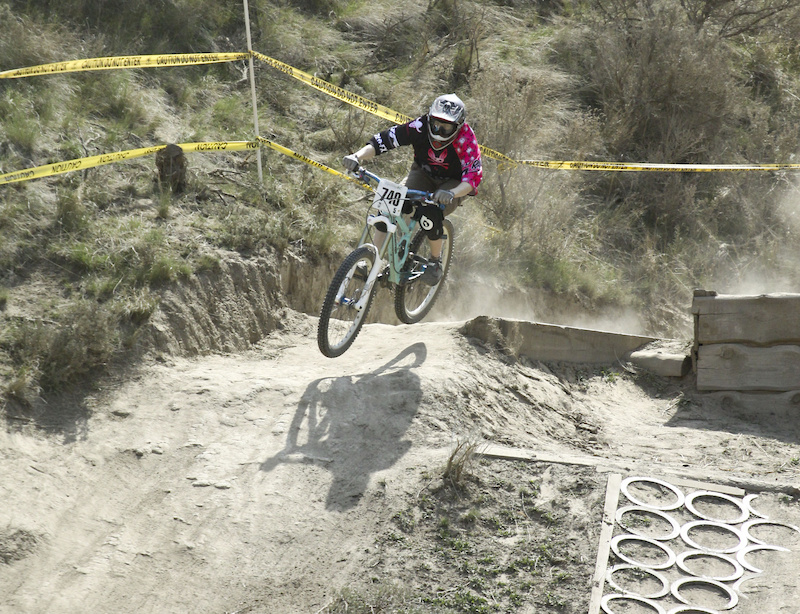 Two days later and it is still consuming my every thought!  It really is a feeling I cannot describe easily.  I feel alive, proud, supported, loved.   This race for me was about doing the best I can while keeping in mind that it is the first race of the season, therefore, staying within my limits and not pushing too hard.  I wanted so badly to challenge myself (there was a road gap on the course that I desperately wanted to do), but a little more riding and experience would probably be smart.
Being on the Muddbunnies Race Team is going to be great.  My fellow teammates have already made an impression in my life and I find each one of them very inspiring in their own way.  It was amazing to have their support at the race.   There's nothing like it.  Way to go ladies.  We did good.
Oh, the results:
30+ Citizen Women (both Muddbunnies)
1. – Jones, Kelly 703 Abbotsford BC 00:02:48.73
2. – Keyland, Colleen 747 Vancouver BC 00:02:55.09
Master 30+ Women (3 out of 6 were Muddbunnies)
1. – Deguise, Isabelle Coquitlam BC Muddbunies Riding Inc. 00:02:34.63
2. – Howey-Louter, Lisa North Vancouver BC Muddbunnies Inc. 00:02:36.25
3. – Kozevnikov, Kelly Heffley Creek BC Full Boar Bike Store 00:02:40.39
4. – Moore, Cheryl Coquitlam BC 00:02:52.31
5. – VanLith, Heidi Squamish BC 00:02:53.08
6. – Janzen, Edith Abbotsford BC Muddbunies Riding Inc. 00:02:59.89
One last thing:
Babysitters always welcomed!