source: Kevin – Transition Bikes  / Ryan Petersen
Muddbunnies Note: I've always been a huge fan of Transition Bikes, (great geometry, specs and design) so it's no surprise that Jill Kintner, an olympic athlete, has one underneath her this season. Watch for Kintner, a well-seasoned pro, to tear up the circuit this year on her new steed. Check it out below.
We got a few of the new Doubles air shipped for the team riders for Sea Otter so we decided to share some pics. The main shipment is on a boat and will be here right when we get back from Sea Otter middle of this month.  Here is the low down on the new frame and how we were able to increase the awesomeness by 27%.
For the 2010 Double it was all about refinement and taking an already dialed frame to the next level. We looked at every tube, yoke, cnc'd bit and hardware to come up with the cleanest and trickest frame we could imagine. The result is a stronger and lighter Double that is more capable for a wider use of disciplines.
1. New proprietary formed tubeset for the front triangle. No more headtube gusset and a design that mates up perfectly to the tapered headtube for increased strength.
2. Adjustable travel via our new flip chip in the rocker arm. Travel options are now 80 or 100mm.
3. Internal chainstay cable routing for the rear derailleur.
4. Trick new custom pivot bolts that are our own design that match up nicely to dials on Fox forks.
5. 3 new colors to choose from, Raw, Lemon Lime Green, Cyan Blue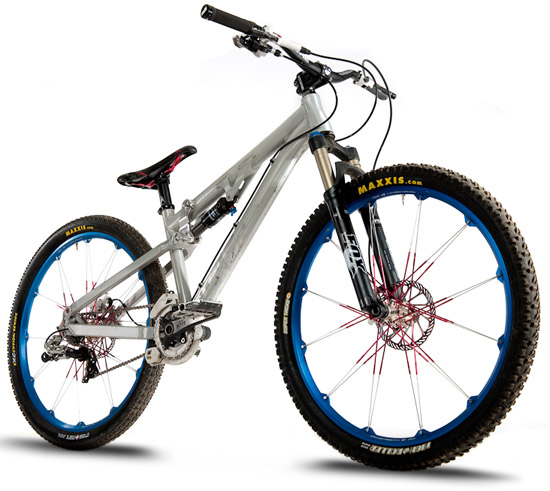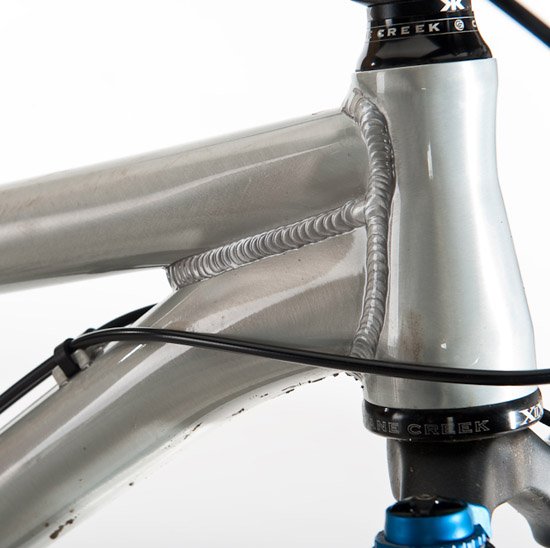 Internal tube gusset on our new formed tubing. Super clean.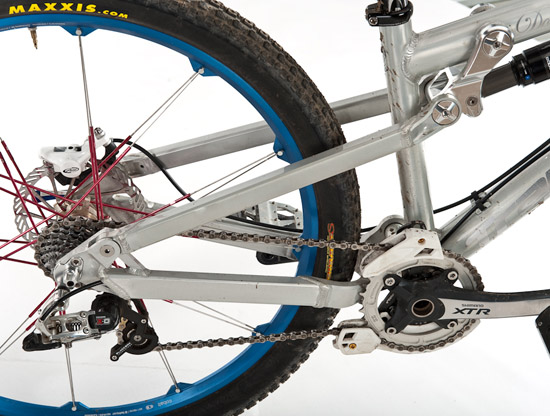 New rear end with internal chainstay cable routing.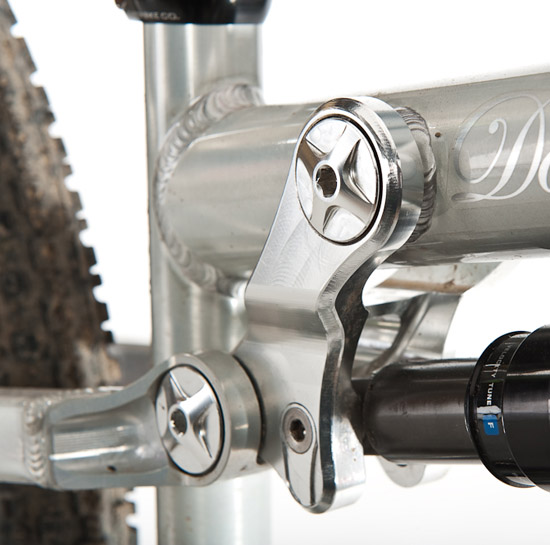 New adjustable travel rocker with chamfered edges and new pivot bolts.
 
More about Jill:
Jill Kintner is one of the most dominant female cyclists in the world. With every title in 4x Mountain biking, and BMX; including a Bronze medal from the 2008 Olympic games, Jill has prevailed across two sports.
For 2010 she has her sights set on diversifying with new challenges.Jill's focus is driven by wanting to captivate viewers, and get more people involved with bike riding while promoting her partners. Through her creativity in the form of video podcasts, photography, and blogging, she maintains an average of 5,000 pageviews per day on Jillkintner.com. Her loyal fans love being constantly updated with dynamic content about racing, training, art, and her life on from an inside perspective.