Article snagged from pinkbike.com, words by Monika Marx
Late last year a client and and I made a decision to take a stab at a stage race as a team, and see if we had what it takes to ride our bikes every day, much longer than what was a normal ride for us, for six consecutive days. Singletrack 6 intrigued us, as it guaranteed fresh terrain for us seasoned Sea to Sky and Fraser Valley riders, beginning with trails in Alberta and moving west, finishing in Revelstoke.
Race check-in at the Calgary Airport was intimidating enough. We stood behind a solid crew of Belgian riders (12-15 in total), checking-in decked out in head to toe lycra. And this was for check-in. We imagined they raced World Cup XC, and prepared ourselves for the inevitable slaughter fest. Shortly after we headed for lunch, where we spotted Barry Wicks eating exactly what he suggested stage racers should consume – onion rings, burgers, beer, and maybe even pickle juice.
And then before we new it, it was GO time.
Day One started out with a brief double track climb, but soon after dropped into singletrack. The Singletrack 6 certainly lived up to its name having us ride almost exclusively trail for the remainder of the day. So much so that we found it a challenge to eat and stay hydrated. Good, first world problems as they say.
Given this is our first experience with a stage race, (and being slightly terrified by the check-in scenario), we seeded ourselves in the "fun zone" (also known as DFL) at the start line. We were pleasantly surprised to find ourselves solid mid-packers in this mix and spent the day passing.
Highlights were definitely the Belgian's, who traveled, rode and even performed trail side maintenance together. There's not much out there as fun as riding a berm lined with a dozen large Belgian men cheering you on while they wait for their buddy to fix his flat. When said Belgians are moving, they call for each other constantly in the forest. This becomes the backdrop for every day after.
The timed enduro descent was fun and challenging with steeper sections that were loose and sandy. These turned into hard packed, smooth, fast berms making for a really great trail. Keeping speed up, while avoiding the "technical trail features" (multiple gap jumps), proved a good challenge. The berms make for good, albeit aggressive, passing opportunities. And yes, by the end of this day we had both taken opportunities to make inside passes – something that rarely, if ever, happens during a normal ride. Seems that racing XC can be an excuse to bust-out some fun, elbows out maneuvers.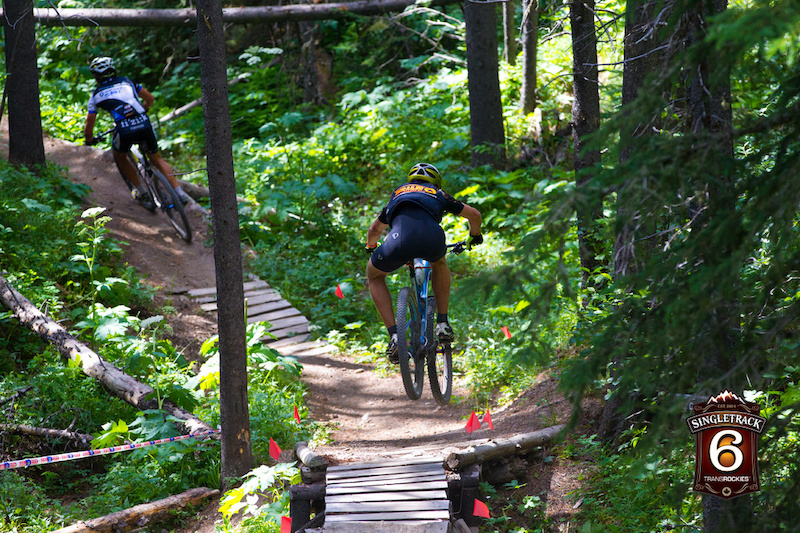 Climb number 2 found us on a lovely berm trail (it should be noted that appearances led us to believe it may have been more fun in the reverse direction) to a very fast, last five kilometers.
After Day One was complete, the event moved on to Canmore, AB for the night. Canmore is a gorgeous town with a stunning mountain view and great restaurants. Definitely worth a visit if you haven't yet and definitely grab a meal at Crazyweed while you're at it.
Day Two found us at Nipika Lodge, a stunning eco-resort nestled next to Kootenay National Park, close to Radium, BC in the Canadian Rockies. We were able to enjoy the lodge's epic scenery and take a welcome dip in the lake.
Nipika is host to over 100 kms of trail with novice to hardcore routes. And we felt like we rode every single nook of the 100km by the end of the two separate laps that were on the menu for this day. The terrain is old school, rooty, rocky and bumpy with some steep descents thrown in the mix.
The views were many and worth chancing getting passed for a quick stop to look around. Full stopping was mandatory as the trails required your full attention and not giving them their due heed could cost you. Early on in the race we witnessed a gruesome uphill crash that required some serious medic attention and facial stitches.
After reviewing the Day One results, we decided to push on Day Two, and ended up on the podium. Although there wasn't a lot of elevation, it was a pedal fest! Riding the steep, sandy chutes were a highlight adding the challenge of avoiding those who were walking. Unfortunately, a spunky girl from Kelowna followed me into one, and wasn't as lucky dodging the Belgian rider at the bottom, clipping him with her handlebar as she got a little squirrely. "My line didn't go as well as yours" she says. The challenges of racing with 350 other people.
End of Day Two featured a bbq with the charming owners Lyle Wilson, Marni Kretzer, and Steve Wilson of Nipika resort slinging and serving burgers. Lyle was even kind enough to open my beer with a quarter. Good trick I need to learn.
Day Three promised to be hot, and exposed. We were straight into singletrack early on, and the terrain was fast and pedally. The ability to push hard on the flats was definitely an advantage. The views of Horsethief Canyon were truly stunning.
There were again dry, steep sandy shoots to keep it spicy, and these made excellent passing opportunities. One rider who had just made a pass on the flats before let out a primal yell as I passed him on a section he chose to walk. That's racing.
The last 5 km may have been the slowest all day. Was it the 34 degree heat with no cover? The climbs that lasted all the way until the bitter end? Whatever it was, we were grateful for the finish line today and Lake Lillian that was a mere 400m down the road.
After the much deserved dip in Lake Lillian it was off to Radium Hot Springs for the night. The entire town of Radium were fantastic hosts! From the initial welcome sign when entering Radium telling our legs to shut up; to every business in town having a welcome sign in their window; to our very own hotel creating an area full of snacks, lounge chairs and a bike wash – Radium was amazing, thank you!
Day Four found us in the much anticipated first stage of Golden. We had the opportunity to make it out a month prior to check out some of Golden's trail offerings and were very excited to make it back during the event. Today promised an initial steady 10km climb, but then a spicy timed decent down a trail that many of you may remember from back in the day of racing Psychosis. We knew there would be some carnage from those who dared to ride and we were witness to many slow speed, over the bar, clipped in crashes. Ouch. Sometimes a picture really is worth a thousand words.
At this point Day Four is our favourite day yet. After being re-energized by Mount 7, we head over to the Mountain Shadows trail network. Lots of sustained descending and rolling singletrack = really fun. Definitely our kind of ride.
Played leap frog again with Belgians. They are always happy, encouraging, and smiling. Letting you pass, cheering you on, and always having a good time.
Day Five is our longest day yet, and of the race at 60km. We leave town and ride towards Kicking Horse Lodge, then head onto the CBT trail, which is an easy grade, rolling, climbing trail leading to the Moonraker trail system. Moonraker boasts a 150 km trail network, one which you could take any level of rider too and they would enjoy.
We descend high above Canyon Creek with its sensitive goats, and it is truly stunning.
Descents are crazy fast, but our Specialized Cambers are amazingly stable. This was not the day for brakes. We push hard on this day, and are rewarded with another podium visit.
Golden is very lucky to have two separate XC riding areas that are both excellent. Trail maps are free and readily available from the local bike shop. The trail systems are impeccably marked and anyone could come here and find the goods. Well worth the effort.
Day Six was another amazing day, with the kind of technicality and scenery we're used to. The first place women's team flats THREE times, and still comes back to beat us all. Machines. Crossing the finish line for the last time is bittersweet, but the taco truck and free flowing Red Racer beer alleviates the sadness. One of the Belgians finishes his race, grabs his beer and lights up a cigarette. We don't judge, but find the sight mind blowing.
The last day of the race – where did the first five go? We've gotten into a rhythm of eating, riding, eating, eating again, eating some more, sleeping, repeating. We've started to adapt to the heat, and have figured out how to eat and hydrate. But six days on a bike is still challenging, and we know this stage will reward us with lots of technical and punchy climbs, and an incredibly long descent down (and up) Flowdown. We've learned the in and outs of passing etiquette, the skill of uphill track standing, and all the other good things that come from challenging yourself for six days in a row, in the company of 350 other riders, with a variety of fitness and skill levels. We've learned how to ride day after day in 30+ degree heat, stay hydrated, and finish with a smile. We've witnessed entire communities overtaken by mountain bikes with race plates. The knowing smiles you exchange with other riders in the grocery store, knowing they suffered just like you did that day. Remember what it was like when you were a kid, and went to the playground? And you walked up to other kids and asked if they wanted to play, before you even knew their name? Mountain bike stage racing is kind of like that. A bunch of like minded people, playing, racing, laughing, swearing in the forest. Was it challenging? Yes. Will we do it again? Absolutely. And you should too.
Check out what the Single Track 6 has in store for 2015 here.
Photo's by Gibson Pictures and Raven Photography