read full post on Pinkbike.com
Singletrack 6 – Ride the West is a 6 day mountain bike adventure showcasing the best riding in a variety of authentic mountain bike communities in Western Canada. Six stages, a new route every year and the perfect brew of xc, panoramic vistas and enduro descents. Singletrack 6 runs July 26th to July 31st, 2014.
Get an extra $100 off when you register using the code muddbunnies100. MORE EVENT INFO below.

Stage date: July 27th, 2014
Nipika Mountain Resort is a unique mountain bike setting that brings to life the dream of Lyle & Dianne Wilson to create a wilderness haven that is in harmony with it's spectacular Rocky Mountain setting. Purchased in 1979 the Wilsons have worked to create an outdoor wonderland for the endurance sport enthusiast.
Nipika is an eco-resort, and generates all its electricity utilizing green technologies and takes pride that its beautiful cabins are energy self-sufficient. There is an emphasis on self-propelled recreation at Nipika. With its 100-kilometre trail network and rivers nearby, the rocky mountain resort beckons visitors to hike, cross country ski, snowshoe, trail run, canoe and kayak and, of course, mountain bike.
The Plan: After a relaxing night in Canmore, with coffee in hand, we'll transfer to Nipika for a day on the trails. Enjoy the drive through the majestic Rocky Mountains and Banff National Park, via the Trans Cananda Highway, and south through Kootenay National Park into British Columbia. Post stage, stay at the resort or shuttle a short distance to Radium where you can bunk down for two nights.
The Stage: Beginning at 11am, we'll send you off in a unique time trial format that will allow you to soak in all that Nipika has to offer: singletrack through pristine forest, bluff hugging trail high above the Kootenay River and never ending views. Finish where you started, at the resort, and hang out and enjoy a day in the Kootenay Mountains. All routes are subject to change at any time to allow for quality control, safety of the riders and wildlife.
Route Maps:
Click HERE to view a PDF version of the map.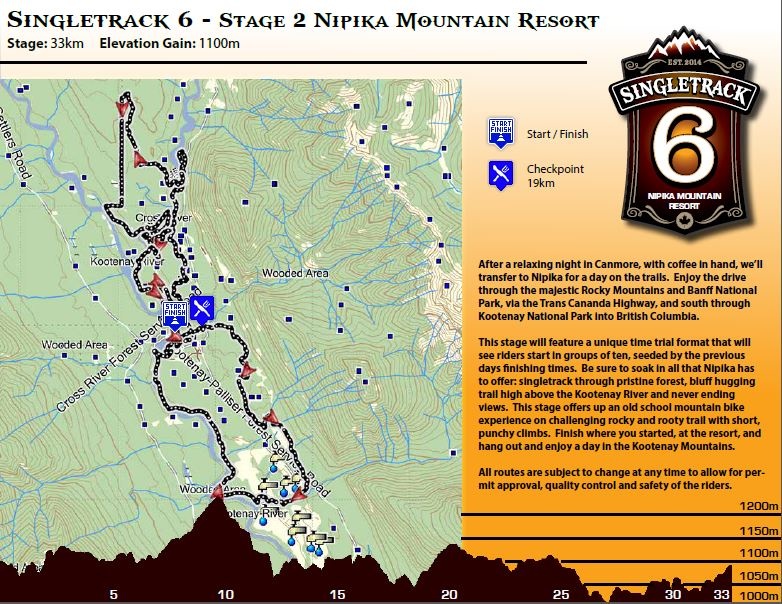 If you like what you see, sign up now and save $100 when you register using the code muddbunnies100. Additional course maps and information to be released in the coming weeks, but save money now!
The Muddbunnies encourage and welcome female riders of all experience and skill levels to join them in getting down and dirty. Come on, ride like a girl!