from Pinkbike.com
Singletrack 6 – Ride the West is a 6 day mountain bike adventure showcasing the best riding in a variety of authentic mountain bike communities in Western Canada. Six stages, a new route every year and the perfect brew of xc, panoramic vistas and enduro descents. Singletrack 6 runs July 26th to July 31st, 2014.
Thinking about this race for your 2014 season? Use the code Muddbunnies100 for $100 off your entry fee to make the decision that much easier!

Stage date: July 28th, 2014
The Plan: After a night in one of many Radium accommodations you can literally roll out of your hotel room to the start/finish line. No transfers today…just ride!
The Stage:
Beginning at 9am, you'll go for a quick lap through town of Radium Hot Springs before heading out on trails built and maintained by local riders and members of the Columbia Valley Cycling Society. This day will blow your mountain biking mind by offering up a mix of punchy climbs on the Highroller trail system leading to expansive Columbia Valley views. Perched on the bluffs above the Columbia River, the fast and flowy lines of Deja View will propel you back to town with a smile firmly in place. All routes are subject to change at any time to allow for quality control, safety of the riders and wildlife.
Distance: 40km
Elevation Gain: 1600 metres.
Route Maps:
Click HERE to view a PDF version of the map.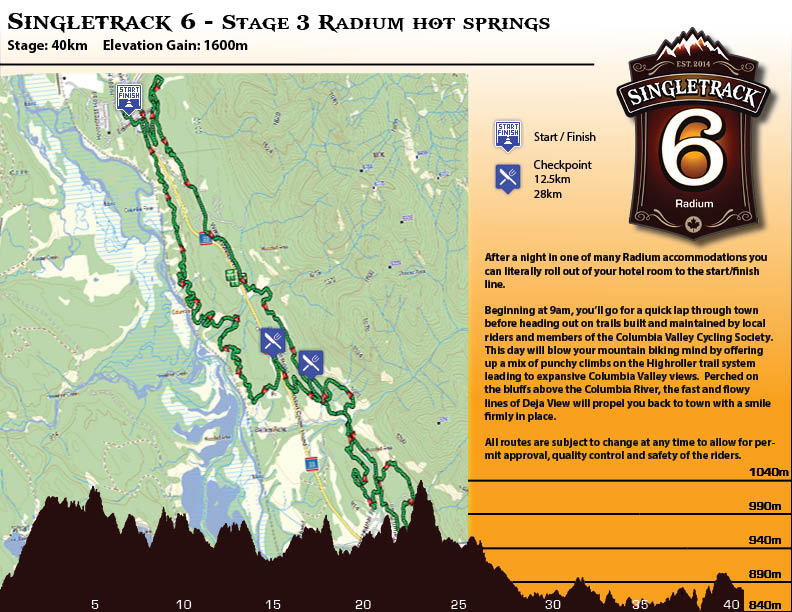 If you like what you see, sign up now and save $100 when you register using the code muddbunnies100. Additional course maps and information to be released in the coming weeks, but save money now!
The Muddbunnies encourage and welcome female riders of all experience and skill levels to join them in getting down and dirty. Come on, ride like a girl!